Answer Sheets and Booklet Processing
December 9, 2008
This document describes the process of how answer sheets and booklets are processed by Boland Technology Solutions, Inc.
1. Delivery
The process begins with the delivery of test sheets or booklets. The current mailing address is:
Boland Technology Solutions, Inc.
17555 Willow View Road Suite A
Noblesville, IN 46062-4395
| | |
| --- | --- |
| United States Postal Service (USPS) Delivery | United Parcel Service (UPS) Delivery |
| | |
| Packages may be shipped via the United States Postal Service. The regular delivery time varies between 11:00 AM and 4:00 PM Eastern Time. | Packages may be shipped via United Parcel Service (UPS). This is the preferred method because each package has a UPS tracking number associated with it. The regular delivery time is typically between 10:00 AM and 11:00 AM Eastern Time. |
2. Receiving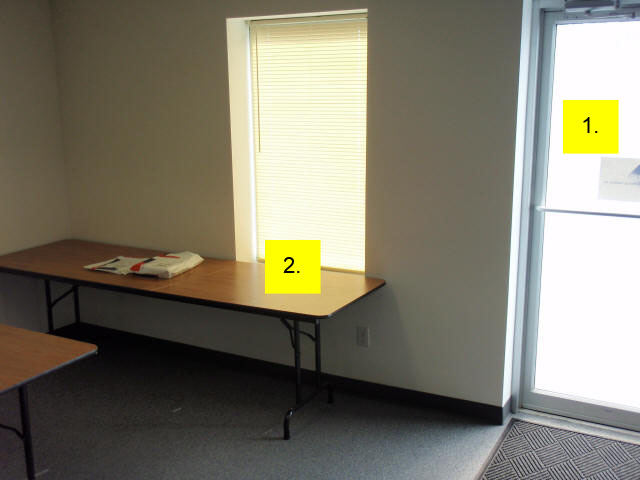 All deliveries are brought through a single door (1) and placed on a receiving table (2) which is monitored by multiple cameras. If the delivery person scans the package for receipt (for example, UPS) it is done at this time after the package is in the building.
2.1 Delivery Confirmation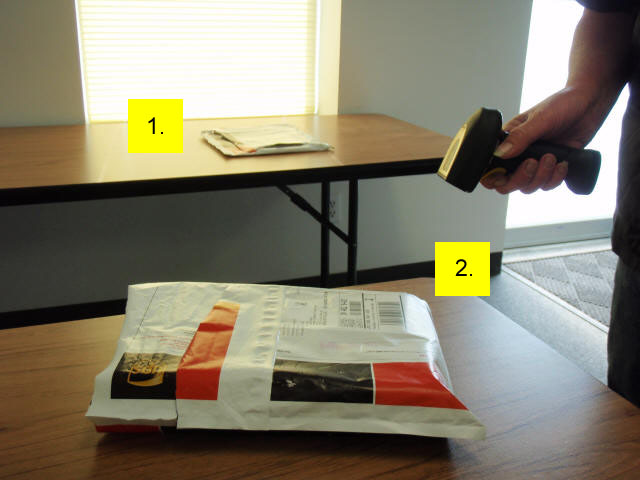 Immediately after the delivery company has (1) finished tracking the package, it is (2) scanned for our tracking purposes. Packages with tracking numbers provided in advance have the additional opportunity to determine:
Is the delivery correct and complete as expected?
Are there any extra packages (for example, delivered to this address by mistake)?
Are there any packages missing (for example, it is scheduled for delivery on this day but did not arrive)?
Tracking numbers can also be used to accurately predict when the data and results may be expected.
3. Internal Tracking and Batch Heading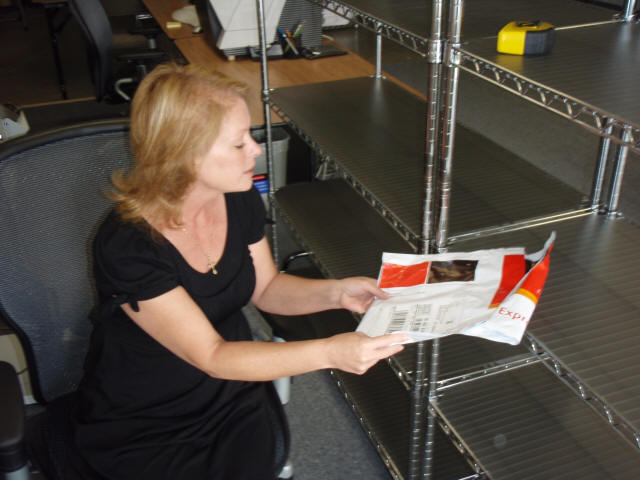 Packages that have been received are placed on a shelf until they can be further processed.
3.1 Package Tracking Number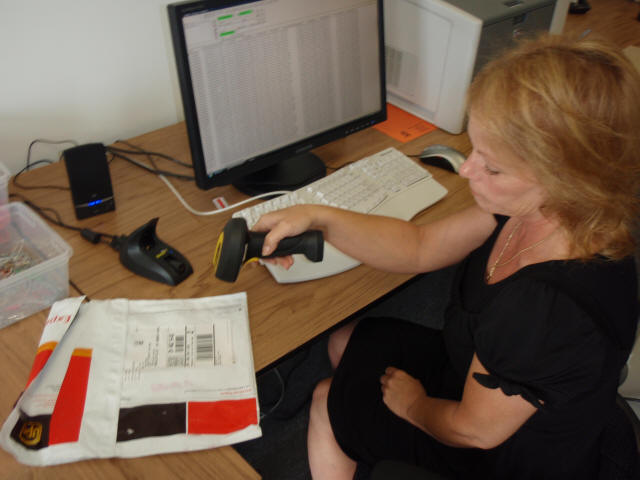 The first piece of information captured is the tracking number. If the package does not have any tracking information (for example, if it was shipped via normal USPS) then the return address and post mark are used instead.
3.2 Open Package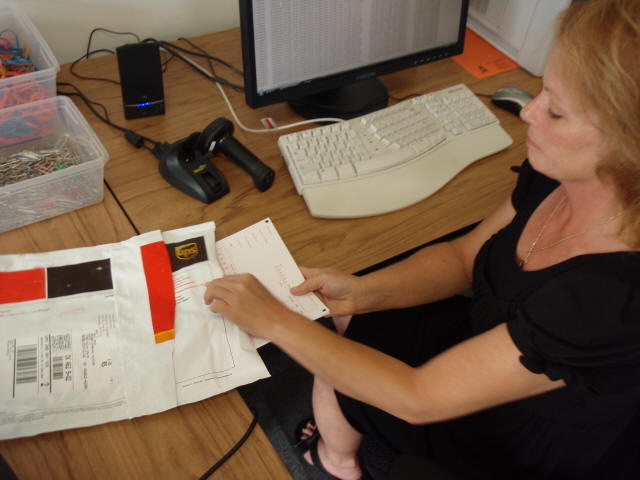 The package is then very carefully opened. It is examined for any problems or fax sheets.
3.3 Batch Number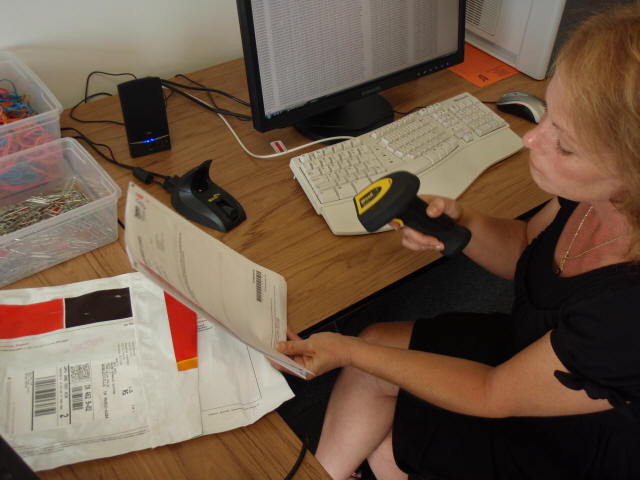 The second piece of information captured is the batch number. The batch number is a unique identifier associated with one or more tests that should remain grouped together. It is possible for a package to contain more than one batch number. For example, if the package is very large (such as a box) or contains different material (test sheets and booklets).
4. Tracking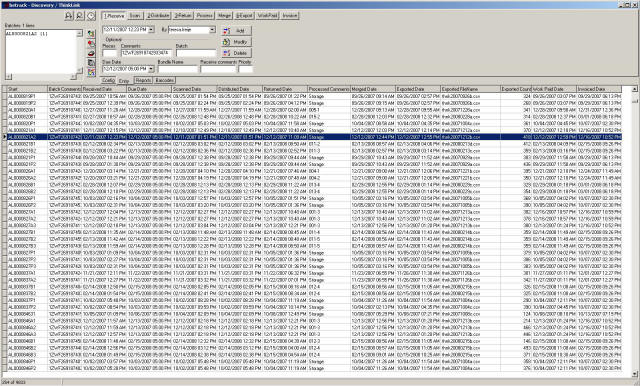 Our system tracks the complete progress of a bundle. The information includes shipping information, date/time of when it was scanned, processed, transmitted, and invoiced, and the rack/shelf it is stored on. It can generate reports to tell us what has been received, where things are in the pipeline, what is outstanding, and it can give an average of the turn-around time.
5. Booklet Debinding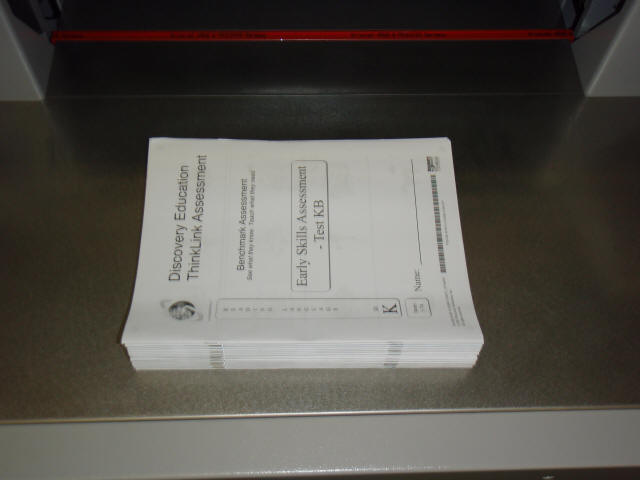 Some assessments are provided in booklets that also serve as answer documents. These booklets have a special step to allow them to be scanned with a sheet feeder.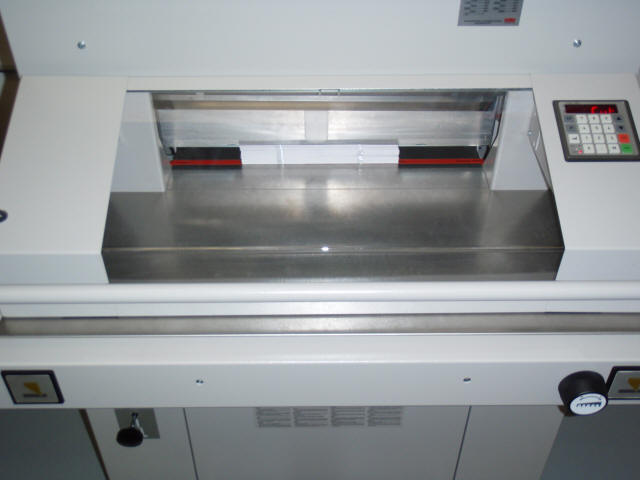 This involves "debinding" by cutting off approximately 1/2 inch from the stapled edge. A special paper cutter is used to do this. The pages are then electronically recombined into multi-page files during the "Form ID" stage of processing.
6. Batch Preparation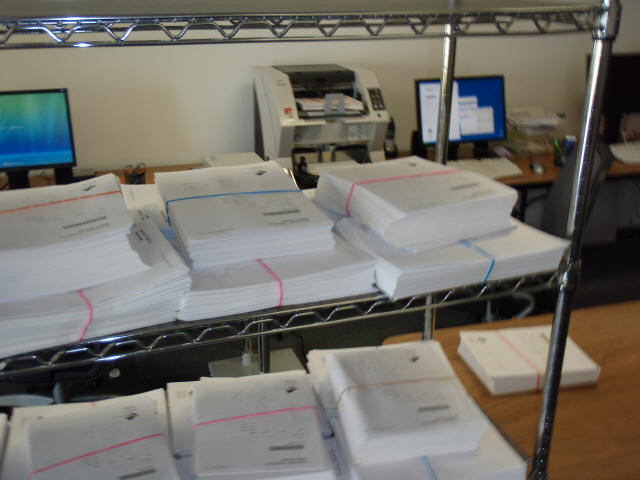 All batches are visually scanned for paper clips, post-it notes, staples, and any other binding. On occasion we have found unrelated material (for example, class homework or teacher papers). If necessary, we contact the school or teacher and arrange for its return. All batches are bound with a heavy rubber band.
6.1 Paper Jogging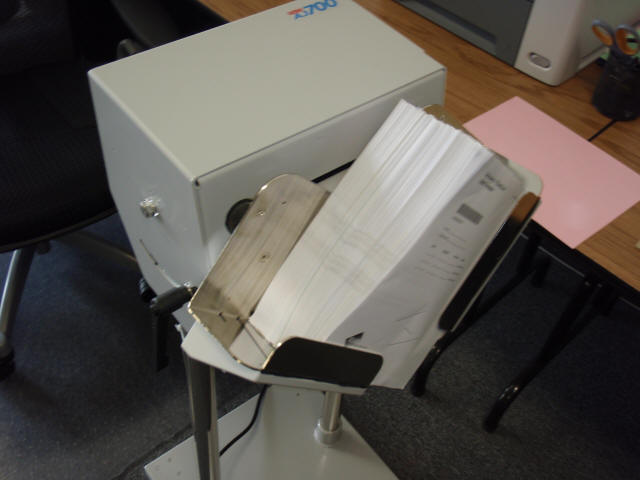 It is very beneficial to "jog" batches before they are scanned. This aligns the pages and helps find other problems such as folded tests or bent corners. A special jogger that forces air between the pages helps to reduce multi-page feed errors while scanning.
7. Scanning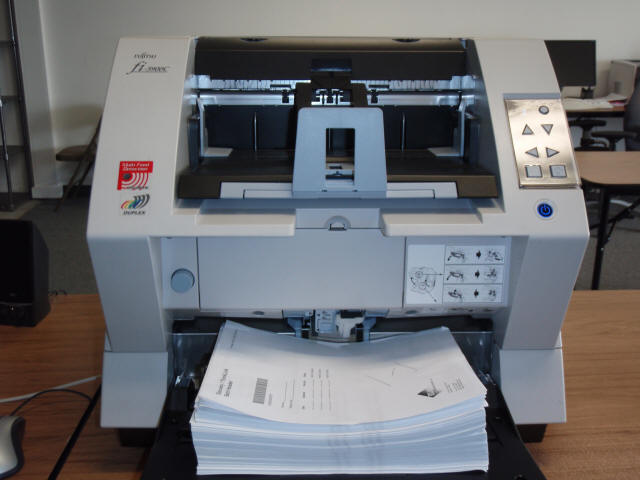 All pages that can be run through the scanner are duplex imaged. This allows capturing tests regardless of their orientation. It also captures any unrelated material such as worksheets or writing on the back of the tests. Each scanner programmed for multi-page feed detection to ensure that a test sheet or other page is not accidentally skipped. Scanners are optimized for red-dropping the background to enhance identification of student marks/bubbles. Even faint pencil marks are readable.
7.1 Scan Monitoring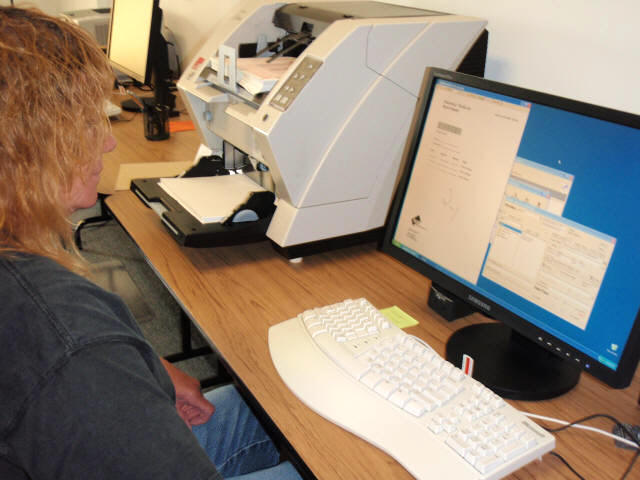 The scanning process is monitored to handle any jams or multi-page feeds (typically post-it notes). It also allows for monitoring of image quality as it runs. The image is further checked to see if it conforms to an "ideal" test sheet or booklet page. If the number of non-ideal images surpasses a specific threshold, it is brought to the operator's attention. Typically these will be pages that are not test sheets. The operator can correct the problem before they go any further in the process.
8. Form ID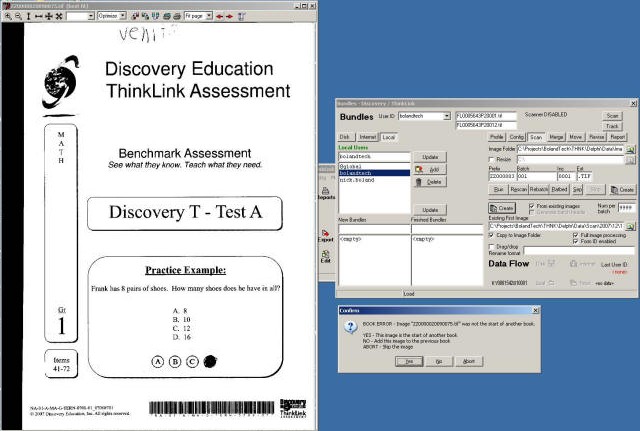 All tests and booklets are run through a process we call "Form ID". On normal tests, this involves determining the front, back, and orientation of the test sheet. Blank pages are skipped and tests rotated so they are visually correct. Booklets are recombined into multi-page files during this process. Any problems are brought to the operator's attention. Typical problems include the student scribbling out the barcode and inserting extra pages (like a worksheet) in the booklet.
When the process is finished a report is generated that describes how many test sheets, booklets, or extra pages where found. The number of non-ideal images are also reported and used to indicate any problems that may be developing with the process.
9. Storage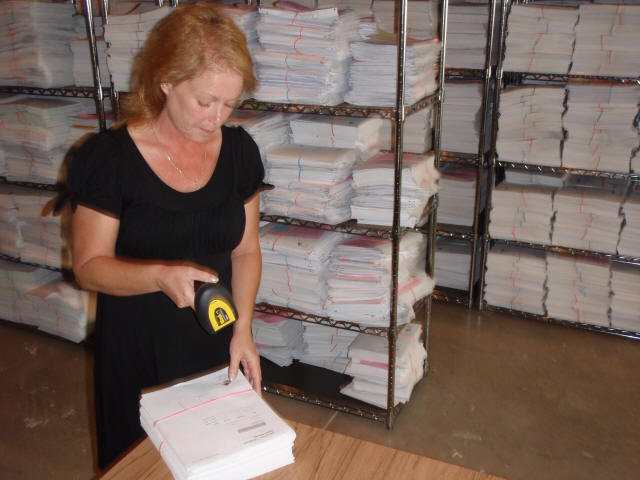 When processing is complete the bundles are put into storage. The rack location and shelf number are entered into tracking. This allows for relatively quick retrieval in the rare situation that the physical paper is needed again. Typical situations when this happens include looking at the physical test to resolve a question about it or searching for a test at the request of the customer.
9.1 Archival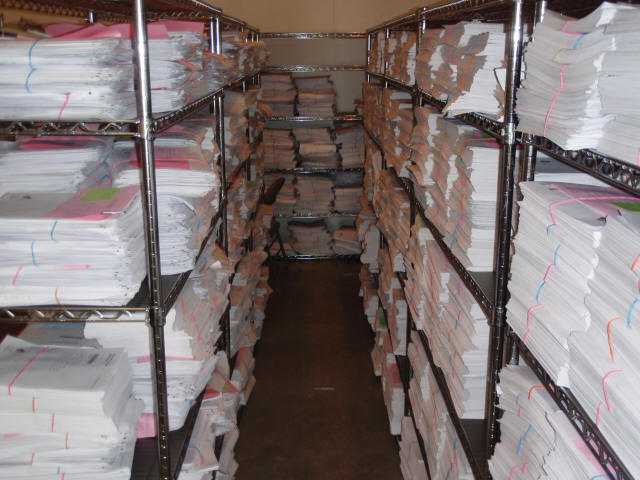 All bundles are saved for at least 60 days or as required by contract. All paper is shredded by a commercial paper recycling company. A certificate of disposal is retained.
10. Data Entry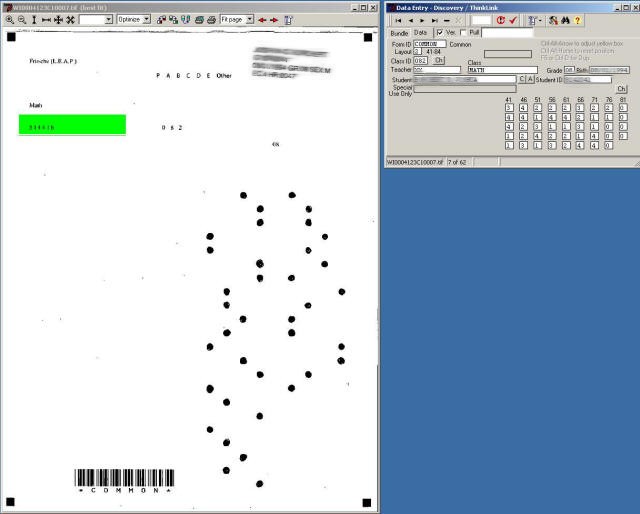 All images go through a process called data entry. A human will read and enter all of the desired information other than the bubble information. The bubble answers are automatically determined. Any bubble that is "suspect", blank, or has multiple answers is reviewed by the keyer. The keyer makes the final determination in those situations. Human judgment and machine efficiencies are optimally balanced to allow us to accurately scan many answer sheets what would not be scorable using a traditional approach.
If an image is not a test sheet it is "pulled". This is a special marking that indicates it should be reviewed by a supervisor. Any test sheet that has special issues, concerns, or questions are "pulled" for review during the final processing stage.
10.1 Verification
All images undergo data entry a second time called "verification". The keyer must enter all manually keyed data a second time. This is done blind without seeing what was keyed the first time. It is only allowed to pass if it is keyed identically both times the same way. Otherwise, the keyer must continue to key the field until it has been keyed twice the same way.
The verification process includes any bubbles that are "suspect", blank, or had multiple answers.
11. Final Processing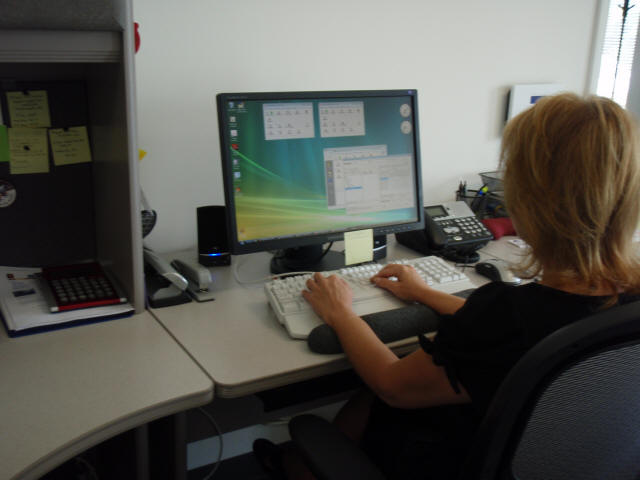 All work undergoes another step called "Final Processing". The following checks are performed:
Check the school name.
Look at, review, and resolve all "pulls".
Look for any images that were not entered or verified.
Look for any responses that may have been accidentally left blank.
Look at any Class ID fields that are blank or questionable.
Look at all forms that use five bubbles instead of the standard four bubbles.
Look at all forms that are completely blank (no answers marked).
Look at all images that are not "ideal".
Check student names against a database of names for possible misspellings.
Check for any tests that may have a higher error rate than the rest of the class.
Generate a report of pulled images and review them again.
Clean up the Class ID fields as best as possible.
12. Audit Process
Each day a random selection of tests will be chosen and audited by an individual. All errors will be marked and tracked to determine the average overall quality rate and to help improve the process. Reports are available that will show the rate of error (critical and/or non-critical) per character (bubble), per field (name), and per form (any type of error on the form).
Each week a random batch will be selected and reprocessed. The data obtained will be compared with the data the first time it was processed. All differences will be reviewed for improvements in quality or procedure.
13. Exporting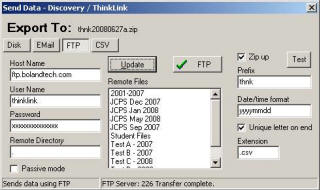 When everything is ready, the data is exported into files in the desired format and placed on the FTP site. This process performs additional checks to ensure that all business rules required for data fields have been met. It is also at this point that, if needed, "Preslug" data is combined with the final data.
14. Accounting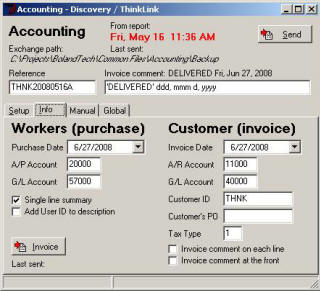 The accounting process is also an automated function. Invoicing is based on actual data that was transmitted during the exporting process. This ensures that line items on the invoice will correspond exactly with what was sent.
15. Other Features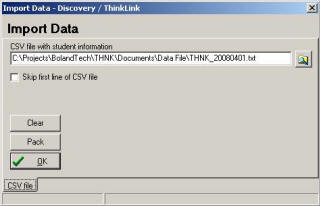 Other special features are supported as well. For example, the ability to import "Preslug" data so that it can be matched with the student number during data transmission.
16. Data Center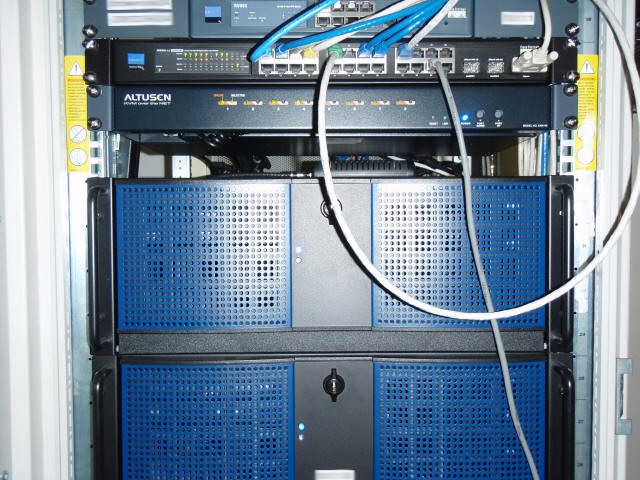 Data is made available to the customer via the internet using File Transport Protocol (FTP). There are two completely independent internet connections (T-1 and Cable) into the office. Secure backups are made daily. All critical machines utilize Redundant Array of Independent Disks (RAID). Uninterruptible Power Supplies (UPS) are used in case of power failure.
17. Security Cameras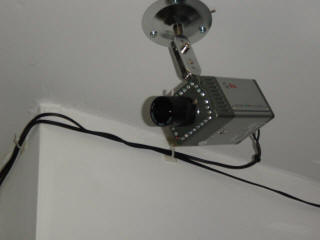 All entrances are monitored with motion detection cameras. This also gives broad coverage to most of the office area. The delivery and receiving area is covered from multiple angles.